PALAZZO RE ENZO'S HISTORY
Palazzo Re Enzo is located in the heart of Medieval Bologna and has always been the hub of the city's economic and social activities.
FROM 1245
TO THE PRESENT DAY
The prestigious symbol of the city
Early construction work and King Enzo's prison years
In 1200, Bologna's municipality expropriated several buildings to create Piazza Maggiore and erected the first complex of palaces destined specifically for public administrative purposes - Palazzo del Podestà, Palazzo di Re Enzo and Palazzo del Capitano del Popolo.
Palazzo Re Enzo, also known as 'Palazzo Nuovo' (New Palace) to distinguish it from Palazzo del Podestà, was built between 1244 and 1246 (at the same time as Palazzo del Capitano del Popolo) as an extension of the other municipal buildings.
Just three years later, it became the 'residence' of the King captured during the Battle of Fossalta and was named after him - King Enzo of Sardinia, son of Emperor Frederick II. He lived in the building for twenty-three years until his death in 1272. His figure inspired many legends in popular literature.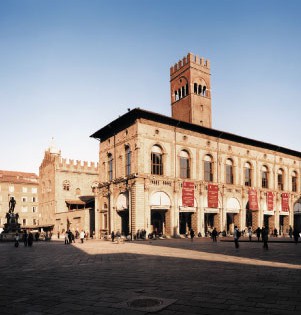 Palazzo Re Enzo over the centuries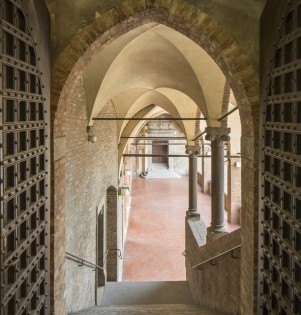 The Palazzo del Podestà was the first seat of city government, which was presided over by the Podestà and his judges and officials. Ever since it was first built, it has had a bell tower - known as the Arengo tower - that was used to gather all citizens in case of extraordinary events. The tower is supported by four columns at the centre of the building as well as by four corner pillars that form a ribbed vault called Voltone del Podestà.
On the ground floor, you will find the army's war machines and the Carroccio (vehicle on which the standards of medieval Italian republics were borne into battle) while the access to the St. Mary of Prisoners chapel, where those sentenced to death used to pray in, is located on the right-hand side of the buildings.The meetings of the People's Council were held in the first floor's loggia, accessed by a covered staircase.
The Sala del Trecento (now Sala degli Atti) was created by Antonio di Vincenzo in 1386 and was later used to house the municipal archive. The top floor was completely restored in 1771 by G.G. Dotti. The piano nobile, i.e. the large hall of the Podestà, measures 61 x 14 m and its ceiling is 15 m high. It was also a public theatre between the 16th and 18th centuries and was later used for ball games.
Palazzo Re Enzo in the 1900s
In 1905, the Palace underwent considerable restoration work carried out by Alfonso Rubbiani to restore the Gothic appearance of the buildings - he rebuilt the merlons, ground-floor arches and 15th-century staircase.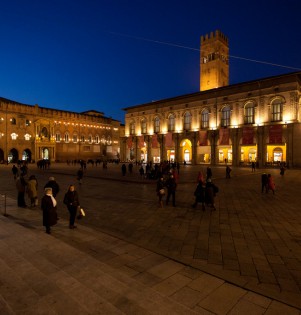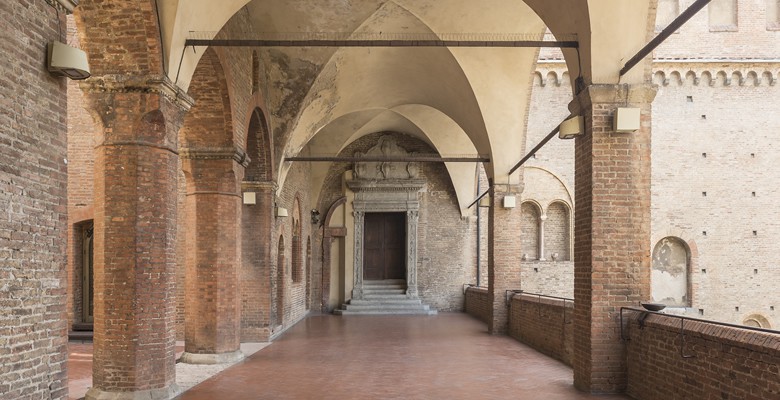 Surrounded by the magical atmosphere of Piazza Maggiore, Palazzo Re Enzo today combines the charm of the past with cutting-edge technology by hosting congresses, conventions, cultural initiatives, business meetings and exhibitions.